Hace poco he visto este video sobre
"lo sobrevalorado que están las oficias con espacios abiertos"
y me recordó que hubo un tiempo en el que, por no estar trabajando siempre desde casa, me pasaba los días en co-workings. Si haces tele-trabajo o eres autónomo (y te lo puedes permitir) aconsejo totalmente trabajar en estos puestos de trabajo de alquiler. A continuación una recopilación de mi experiencia entre los varios co-workings por los que he pasado.
Makers Of Barcelona.
Fue mi primera experiencia en un co-working y me encantó. Espacio de trabajo enorme a una calle del Arc del Triunf. Ambiente muy joven y el personal que lo atiende es de lo mejorcito. Organizaban de todo: desde calçotadas, fiestas de Halloween, talleres y desayunos. Acababas perteneciendo al
Mob Family,
donde verdaderamente he visto el espíritu de intercambio, cooperación y networking.
Yo tenía acceso 24/7 y daba igual que me fuese muy tarde o llegase muy temprano, siempre había alguien trabajando en remoto para cualquier otra parte del mundo. Su cafetería siempre estaba llena y el propio co-working te invitaba muy a menudo a Moritzs. Daba gusto tomarse descansos del trabajo.
>> mob-barcelona
Utopic Us, Madrid.
Cuando pasaba la semana en Madrid me dejaba caer por su espacio de Duque de Rivas. Los espacios están bien decorados. No me gustó que la zona de mesas permanentes estuviese inmediatamente al lado de las mesas móviles. Es decir, si tienes alquilada tu mesa de forma permanente, al lado tienes un puesto donde la gente va y viene como en una biblioteca. Al igual que Makers Of Barcelona, tienen una cafetería con muy buena conexión a internet, perfecta también para trabajar algún día y no quieres pagar una jornada en el co-working ;)
>> Utopicus.es
Workdifferently, Bristol. UK
Estuve en Bristol un tiempo y este fue uno de los primeros espacios donde trabajé.
Situado en Stockes Croft, un barrio joven lleno de cafés, tiendas independientes y grafittis de Bansky. Es pequeñito y acogedor pero el encargado/dueño se encuentran en el local de al lado llevando su
tienda online Howkapow,
por lo que con cualquier problema estaba encantado de ayudar.
>> Workdifferently
The Island, Bristol. Uk
Lo que fue el antiguo edificio de la policía de Bristol es ahora The Island, un espacio creativo. Conocí a unos que sub-alquilaban una de sus salas y así es como empecé a compartir espacio con ilustradores, diseñadores y escritores en Bristol.
>> theislandbristol.com
The Shed Coworking, Madrid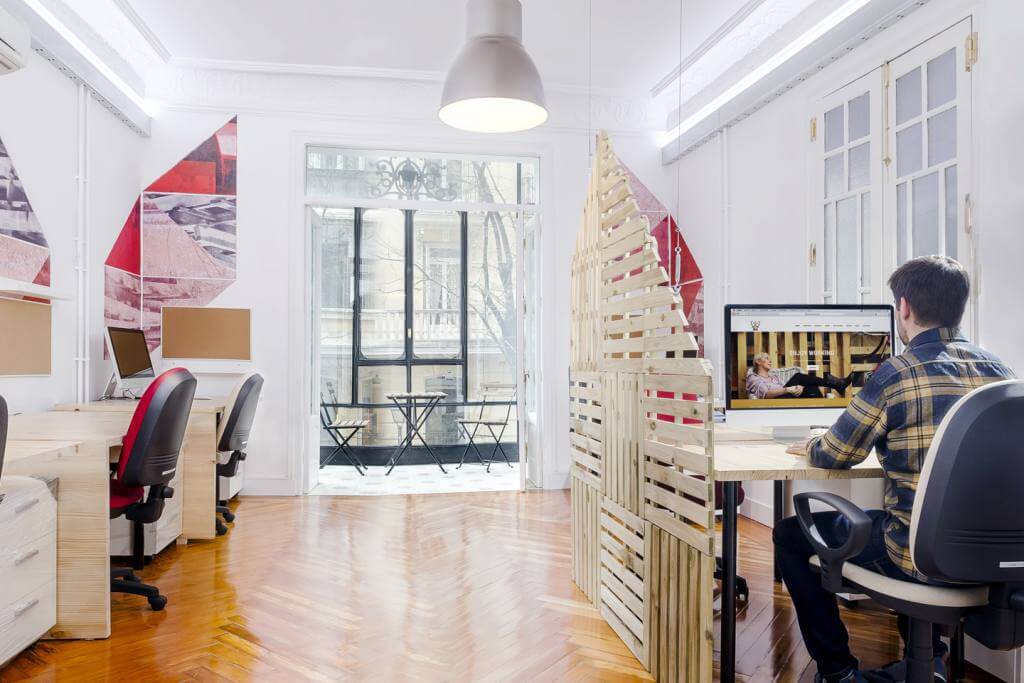 Situado en Velázquez. Cada semana te sorprenden con un evento, actividad y desayuno. Cuando elijas Co-working, ten presente que organicen eventos de intercambio o networking. También es buena excusa traer tupper y conocer a gente en la cocina.
The Shed es un espacio muy bien decorado y agradezco que estuviese dividido en salas, por mucho que este de moda los espacios abiertos, en mi opinión uno se concentra mejor entre 4 paredes. Puedes hacer uso de sus salas de reuniones y en verano disponen el patio para que trabajes a la fresca en él.
Tal vez el perfil de sus miembros tira más a start-ups o pequeñas empresas que freelancers creativos, pero aún así yo estuve en él casi 2 años y recomiendo mucho este espacio.
>> Theshedcoworking.com
---